Back to Articles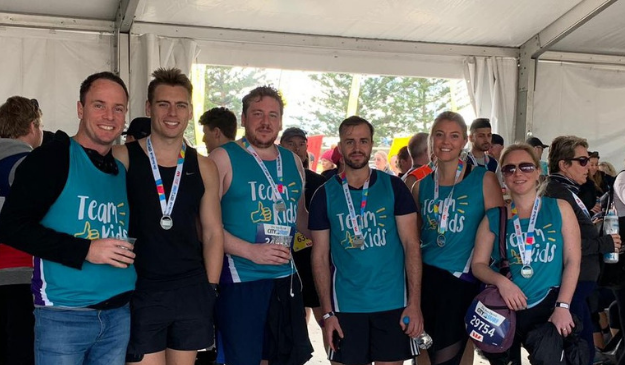 Finite Group Raises $8,000 for Sydney Children's Hospitals
The Finite Group continues to support worthy causes, participating this year's 49th Sydney City2Surf and raising over $8,000 for the Sydney Children's Hospitals Foundation, which raises much needed funds for The Sydney Children's Hospital, Randwick , The Children's Hospital at Westmead, Bear Cottage, the Newborn and Paediatric Emergency Transport Service (NETS NSW) and Kids Research.
With a team of 10 fielded from within the Group's NSW ranks, and despite the cold and breezy weather which could have put many off, Finite's runners put in some impressive finishing times, with James Beech running a PB crossing the finish line in just 1 hour and 1 minute – an excellent time!
Finite Group General Manager Duncan Thomson says "this year's team were very determined and really came into their own on the fundraising front. This was reflected in our fund raising total which at just over $8,000, is a great achievement from only 10 participants. Being part of the world's largest fun run to give back to the community, encouraged by donations from colleagues, friends, family and suppliers, is being part of something very special.
This year's adverse weather forecast also didn't help, yet those who turned up and made the effort had a great day. Thankfully it didn't rain and the chill factor was fine once you got started, and in fact it was actually really good running weather. As always, it was a brilliant atmosphere along the very picturesque route out through Sydney's eastern suburbs, with lots of noise, bands, DJ's and supporters lining the route. This year's chosen charity was also very popular and well organised scoring high buy-in with the team and our generous supporters."
For more information on Finite's Group team and fundraising efforts go to https://city2surf2019.everydayhero.com/au/finite-group-2019.