Client
In addition to skin care, this major retail client also produces hair care, soaps and fragrance. As of 2019, the brand had over 320 points of sale across twenty-five countries.
The brand is known for its plant-based and laboratory-made ingredients with a proven record of safety and efficacy. With a team of skilled chemical scientists working on research and product development, the brand is able to launch and deliver the highest quality new products in response to the needs of their clients.
The brand's IT department has the objective of providing consistent and effective IT services in order to maintain the high standard of its service. This includes their global infrastructure, development and maintenance of their website, and data analysis.
​
​
What is ITIL?
The IT Infrastructure Library (ITIL) questionnaire is designed to be an objective survey into the process maturity of an IT organisation as measured against ITIL best practices. It is documented within two books, IT Service Support and IT Service Delivery. The IT Service Support book focuses on the operational elements of ensuring that the customer has access to the appropriate services to support the business functions.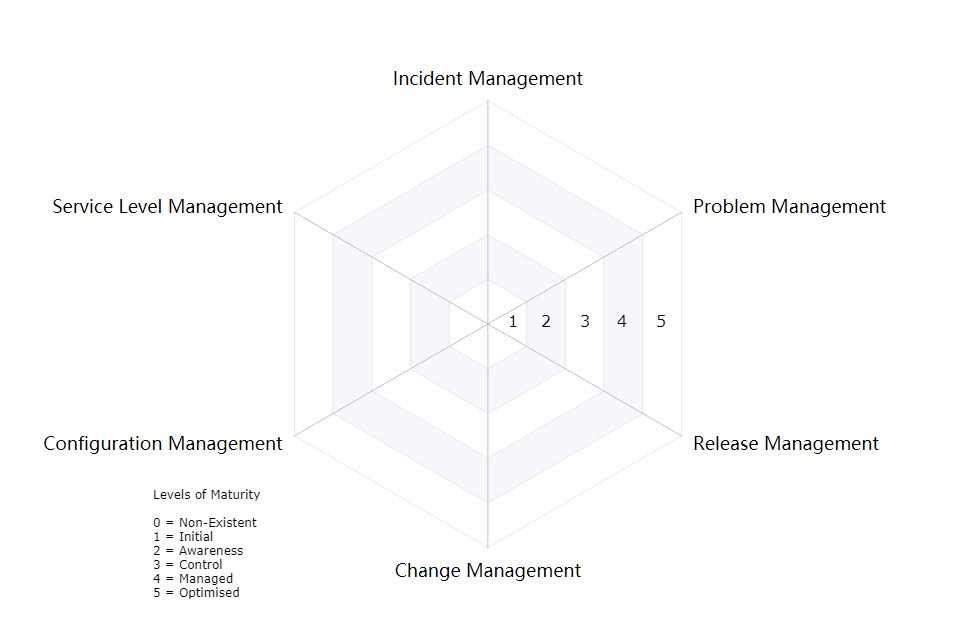 Challenge
The client required an assessment to be performed to evaluate and report on the maturity levels of 6 IT Service Management processes within its ICT Operations. This assessment compares the maturity results found against the best practices described by the Information Technology Infrastructure Library (ITIL) framework. Once the process maturity benchmark is developed, the client can begin to develop specific plans for how to improve their services.
Other targeted improvements include:
Improve reliability and availability of ICT services cost effectively,

Consistent and global level of customer support, and

Developing an end-to-end global service delivery model.
Any recommendations following the assessment are expected to be used as input into the development of a service improvement plan to support these initiatives and goals.
​
FinXL Solution
1. Interview and Assessment
The FinXL assessment targeted the maturity and capability of 6 processes, workflows and procedures used within the client's ICT Operations. The processes were assessed on the basis of their execution in respect of the client as a global organisation.
The purpose of the interviewing phase of the assessment is for the consultants to gain a comprehensive understanding of how the ICT department delivers IT services in relation to the ITIL process framework. To accomplish this goal, individuals were chosen to represent the viewpoints of management and staff in the execution of the assessed processes as practised by the ICT Operations.
FinXL interviewed 16 management and staff within the client's ICT Department. Based on these interviews, FinXL assessed the relative levels of maturity, measured from 0 (Non-Existent) to 5 (Optimised).
Staff members were identified by the Project Sponsor to participate in the interview process. The criteria for selecting participants were based on the following:
Group Representation (Manager, Operational staff and Service Provider)

Process Involvement (current and future)

Strategic, Tactical or Operational viewpoints.
The subject of the assessment is the quality, maturity, effectiveness and consistency of the IT Service Management processes.
Upon completion of these interviews, a gap analysis of the processes was conducted. This enables FinXL to provide recommendations for improvement initiatives and activities. Where applicable, this analysis also notes improvement projects currently being undertaken by the client to address identified process gaps.
​
2. FinXL Conclusions and Recommendations
Following the interviews and the assignment of maturity scores, FinXL also developed and presented a variety of conclusions and recommendations for future improvement. A summary of conclusions and recommendations is listed below:
2.1 Overall conclusions
Need to improve knowledge and understanding of ITIL.

The current configuration of the Support tools Zendesk and Jira Service Management does not support nor lend itself to providing easily obtainable metrics and reports.

Tighter integration between Zendesk and Jira Service Management required or move to a common support toolset. Lack of tool understanding and combined with limited training documentation impacts on the ability to get these tools working correctly.

Definition of customer is at variance. The local support teams tend to focus on the local customers, with more attention needed for remote teams to build one cohesive support unit.

Configuration Management of CMDB (Configuration Management Database) does not add significant value to the efforts in fast resolution of incidents, developing known errors, nor investigating potential impact and risk of changes.

Service Level Management needs to be strengthened significantly for the other processes to grow and integrate.

Documentation within the support team, needs to be shared or validated with the other support teams.

The process principal documents must be expanded to include all levels of support.

Performance measurements are limited and are not aligned to the overall needs of the client's ICT Operations.
2.2 Overall recommendations
It was concluded that there was a need to consider a Service Management, end-to-end, approach in the delivery of IT to the business.

For all processes, there is a need for improved vision and direction, with clear process ownership, and documented roles and responsibilities.

Formalise communication between all levels in ICT Operations needs focus.

Focus on the outputs of Service Level Management, especially Operational Level Agreements and a Service Catalogue.

Concurrent to improving the Service Level Management process, efforts should be directed at improving the Configuration Management process.

It is important to assess the knowledge, understanding and capabilities of the Zendesk and Jira Service Management tool to better support these processes.

Create a document hierarchy of Process, Procedure and Work Instructions (Checklists).
3. Implementation of Recommendations
FinXL's Senior Consultant and support personnel worked with the client's IT team to complete the following:
Service Catalogue
Created the foundation of a service catalogue, with a structure designed with key stakeholders and future business needs in mind. The service catalogue construct put in place:

Was able to be integrated with current live service tickets, e.g., NetSuite support, providing immediate improvements in support response speed and efficiency.

Enabled the triage and improved tracking of all service tickets.

Created the overall framework for and creation of a structured/scalable CMDB (Configuration management database).

Enabled the mapping of current services (70) and the 4 main processes.

Applied the service catalogue construct established the FinXL Team worked with key personnel to migrate service management from Zendesk to Jira Services Management. Approximately 120,000 tickets were migrated, with a short overlap period when both systems were operating to ensure that operational disruption was minimised.
Process Work
Processes were mapped, migrated moved and improved. Completed process work covering the following areas:

Integration Management (IM)

Supplier relationship Management (SRM)

Project Management (PM)

Change Management (CM)

For the 50-60 automation rules in Zendesk (As-is), FinXL mapped the rules and, where possible replicated the rules into Jira as workflows. Where full replication was not available in Jira, stakeholders were engaged to build consensus on alternative options which were then implemented.

For rollout reference documentation was created, along with training material which was then delivered across geographically diverse locations and time zones: Hong Kong, USA, Australia, and Europe.

FinXL also provided hypercare support to the Platform owner allowing smooth transition from Zendesk to Jira.

Workflow diagrams completed using BPMN standard with the initial focus being to map As-is flows and automation rules. Implementing improvement changes, creating, and delivering training

Learning to use and apply Jira native reporting tool. Improvement expected with 2022 update which includes low code capability.

Some creation of a knowledge management taxonomy has been undertaken as part of this exercise.
Business Benefit
In addition to the overall recommendations above, FinXL also made a number of specific, technical recommendations for each of the 6 operational elements covered by ITIL. These recommendations related to establishing policies and procedures, more clearly defining roles and responsibilities, and improving existing systems. Once implemented, these recommendations, as well as the overall recommendations, will greatly increase the overall quality of the client's ICT operations.
The maturity score assessment provided by FinXL allows the client to clearly understand the current quality of their ICT operations. This enables the client to set goals for future ITIL assessments and work towards achieving those goals. For example, the client may want to improve the maturity score of each of their services by 1 point, and FinXL's recommendations can help them achieve this goal.
Overall, FinXL has successfully managed and assessed the client's challenge in identifying the maturity level of their ICT operations using the ITIL framework. The process involved conducting interview and questionnaires with the different levels of management. This enables the client to gain a better understanding of their current state and to determine the future target. In addition, FinXL also offered a range of recommendations for each specific area of improvement.
FinXL have also completed initial implementation of the recommendations delivering:
Improved reliability and availability of ICT services in a cost-effective way,

Consistent and global level of customer support, and

The foundation of an end-to-end global service delivery model.
​