Mission
"To be our client's preferred mid-tier advisory and technology delivery partner for business and technology consulting services."
Values
Our values drive our business and the way we engage with our clients and workforce. We live and operate according to the principles that launched the company back in 2003.
Our clients come first and we partner with them to deliver consistently great work. Our passion and integrity underpin everything we do. We believe that getting to the bottom of the problem is as important as crossing the finish line, so we always go that extra mile.
Everything we do, we do with pride and dedication. We stake our reputation on every solution, comfortable in our expertise and confident in our excellent workforce.
We're proud of our team and find the constant challenge and change both exhilarating and inspiring.
We are proud of the communities in which our teams operate and seek to collaborate to promote diversity, equality, sustainability, carbon neutrality and ethical practices throughout our supply chain.
Every challenge is a new opportunity.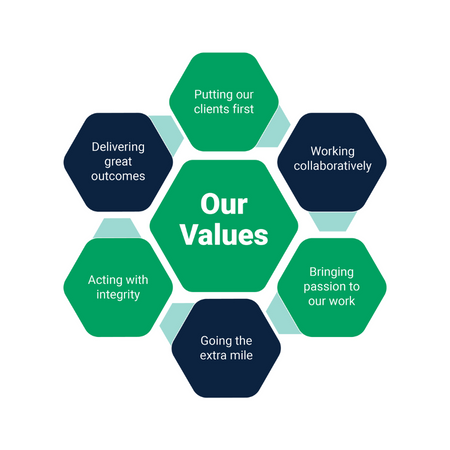 ​​