Back to Articles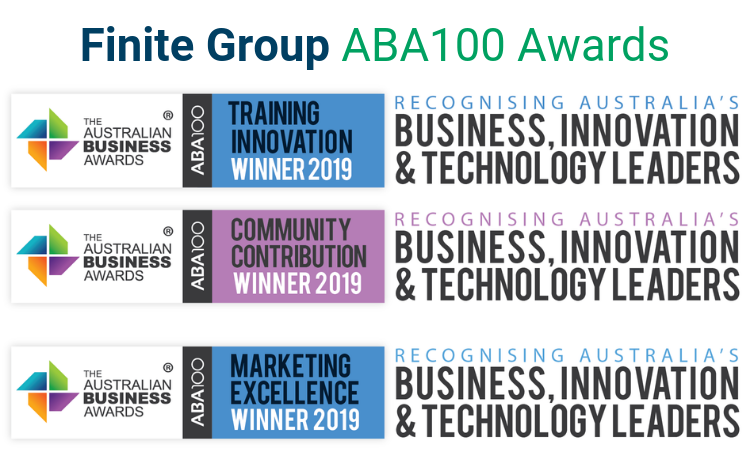 Media Release: Finite Group Wins The Trifecta At The 2019 ABA100 Awards
Finite Group has been recognised as an ABA100 Winner in The Australian Business Awards 2019 for three categories across the organisation, including Community Contribution [CCA] and Marketing Excellence [MXA] for Finite IT Recruitment and Training Innovation [TRI] for FinXL IT Professional Services.
Now in their fourteenth year, The Australian Business Awards program provides notable opportunities for high-performing organisations which implement world-class business initiatives and develop innovative products and services to be acknowledged and honoured for their achievements both nationally and internationally. The national winners are benchmarked in the international chapter of the program at The World Business Awards whereby participants are provided with the unique opportunity to benchmark themselves against the top performers globally.
Tracy Thomson, Managing Director of Finite Group says "the awards affirm our commitment to continuous improvement and innovative business processes".
"We are delighted and humbled to receive these awards, as it reinforces our commitment to delivering first class service across all areas of our business. Our continuing success really comes down to the hard work, commitment and enthusiasm of our people who relentlessly live by our Group values each day and always go the extra mile. We're especially proud as this the sixth consecutive year that the Group has received ABA100 recognition" says Tracy.
"Achieving ongoing business success involves many aspects, particularly for larger multi service organisations like Finite Group, where people, culture and innovation play such an important role. These three awards recognise our team's ongoing commitment to community outreach and participation, and the importance that giving something back plays in our day to day activities. It's also brilliant to receive recognition for FinXL's highly innovative "Graduate" training program which has had such strong take-up, and the amazing results our marketing team are achieving supporting the Group's six brands and their respective sales growth."
"Innovation is vital for every company, but it's even more important for business growth and expansion. Innovation makes it easier to grow, regardless of the size of the business. You need new, unique ideas, and the ability to bring them to market before the competition." Australian Business Awards, Program Director, Tara Johnston said.
"The Australian Business Awards exist to highlight new products, methods, and ideas within Australian industry. The awards resonate with our mission of promoting the development of Australia's innovation culture and technological capability.
"Each year the ABA100 Winners are recognised for their innovative initiatives, products and services, which are leading business and digital transformation within the Australian marketplace," Ms Johnston added.
The World Business Awards Framework (WBA Framework) is utilised as a structured model of assessment that enables the participating organisations to be benchmarked against world class performance standards.
The Framework consists of specialised assessment modules pertaining to the evaluation criteria for each of the award categories. The criteria and sub-criteria provide a robust set of requirements that are used as the methodology for benchmarking and learning among the participating organisations.
Organisations that demonstrate the core values of business innovation, product innovation, technological achievement and employee engagement are recognised via a set of established business and product award categories.
The process culminates in the selection of organisations which implement world-class business initiatives, projects, products and services. The award recipients are recognised as the elite of their industry earning a place amongst a distinguished group by having their achievements acknowledged and celebrated.
For more information on The Australian Business Awards and the 2019 ABA100 Winners go to www.australianbusinessawards.com.au.
For further information or comment, contact:
Monique Gibara
Group Marketing Manager
Finite Group
0435427270