Back to Articles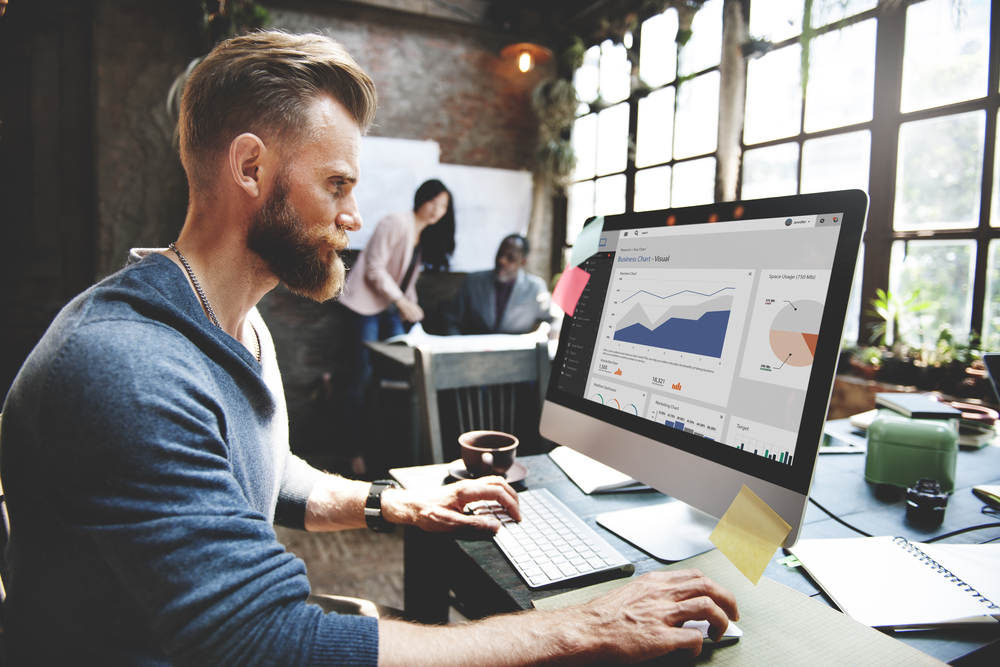 The Best Data Analytics Systems and Tools for Australian Businesses in 2020
We now live in a data-driven world.
The last decade has seen a dramatic shift in the volume of data being collected and data has become a crucial corporate asset. There are billions of potential data points that can be collected from a variety of sources - the web, smartphones, sensors, cameras, and payment systems.
Modern data analytics and business intelligence (BI) platforms utilise highly complex algorithms to process and interpret this data to generate data visualisations, reports, and business insights. This enables companies to better understand their own business and the broader market and there are now many players in this field from both large established tech companies like Microsoft, SAP, and IBM as well as smaller specialised innovators.
What data analytics can do for your business
Companies have always collected internal and industry data. It helps give them an understanding of the market, see where improvements can be made, and search for competitive advantages. What has changed is the resolution of that data.
Analytics platforms increase the accessibility of data across a wider range of staff. In the past it may have only been upper management who regularly collated and viewed business data but today there is an opportunity for people in all roles to use analytics tools to view relevant data in context. This can be applied across sales, marketing, finance, product development, and many other processes. The information can help individuals and teams function better, collaborate better, and ultimately get better results.
There is now a well established marketplace for data analytics platforms that cover a range of use cases and verticals. Larger traditional providers are being joined by disruptive newcomers with new visualisation and other useful technologies enabling organisations to make full use of the myriad of data sources available.
In this article, we break down the best offerings from a range of small and large providers to help you select the data analytics platform that will best serve you now and in the near future.
IBM (Cognos Analytics)
While IBM formerly offered three separate tools in the analytics space: Analytics; Watson; and Cognos, it has now combined this into a single offering it calls Cognos Analytics.
Cognos Analytics incorporates the business intelligence and machine learning capabilities from its previous suite of tools into a single package. This has resulted in an integrated self-service product that enables users to utilise data to create reports or dashboards. Its machine learning features include support for natural language queries, automated pattern recognition, and embedded advanced analytics tools.
Pros - Dashboards are easy to create using a drag and drop functionality. The platforms natural language querying is impressive, as is the speed of its analytics functions.
Cons - Currently unable to perform real-time streaming analytics.
Tableau
Tableau was one of the earliest players in the self-service business intelligence area and is now widely known as a leader in the space. Its software portfolio is spread across Tableau Desktop, Tableau Server, and Tableau Online and can be operated on-premises or in the cloud and connects to hundreds of data sources. Tableau includes a wide range of data connectors and visualisations, with the added benefit of offering guidance on how to best use each visualisation when you click on them.
Pros: Has a user friendly design that makes loading and extracting data straightforward. Ultimately Tableau benefits significantly from being a long standing, mature product with a large user community.
Cons: Has a fairly steep learning curve meaning that in order to grasp all its functionality users will need to be committed to spending the time to undergo lengthy training.
Microsoft Power BI
Microsoft Power BI is a self-service business intelligence (BI) platform with strong analytics and data visualisation capabilities. It is another of the field's highest profile platforms, with a large user base and support ecosystem. As would be expected, it has high compatibility with other Microsoft Office products. Considering its powerful capabilities, it remains relatively easy to use thanks to its well designed and intuitive user interface.
Pros - Very powerful platform that benefits from its wide range of data source connectors. Extremely wide range of data visualisation capabilities but is still very user friendly. A free version is available.
Cons - The platform exists across a desktop and web version but the web version tool set is limited compared to the desktop version.
SAP Analytics
SAP is a long time player in the Big Data space and now has a solid business intelligence offering in SAP Analytics. While the platform has a good feature set and data visualisation capabilities, it is probably best suited to companies that are already part of the SAP enterprise ecosystem as its learning curve can be steep for new users.
Pros - Has real-time IoT analytics and streaming data capabilities. Includes predictive analytics in both the on-premises and cloud versions of the platform. The centralised dashboard is great for consolidating analytics to derive compelling BI insights.
Cons - Has somewhat limited data prep features. Has a longer learning curve than many competing products, not helped by its sometimes confusing toolbar.
Salesforce Einstein Analytics
While a little more of a latecomer to the field of data analytics, the Salesforce Einstein Analytics Platform offers a simple yet powerful option for enterprise. While the platform's analytics are mainly focused on mining customer and sales data, other data sources can also be connected to the tool. It incorporates machine learning and natural language querying capabilities.
Pros - Very well designed for general users looking to analyse marketing, sales, and customer based data, although it can still be used to generate insights and visualisations for other needs if required.
Cons - Not all data types can be utilised within the platform. Users don't have full control over the visualisations used as the platform automatically selects the visualisation best suited to the query, which some users may find frustrating.
Oracle Analytics Cloud
Oracle's range of analytics and BI tools can be deployed on premises or in the Oracle Cloud.
The platform features a simple point-and-click data upload function so that users can automatically view data visualisations as attributes, graphs, and charts. Story points can also be used to take snapshots of analytical moments. Oracle has significantly expanded its feature set in recent times, with new capabilities including data discovery and data science tools.
Pros - The data preparation features are fast and well thought out, allowing users to easily clean and prepare data from multiple sources quickly. The Big Data Discovery tool enables enterprise to find, transform, and analyse Big Data sets.
Cons - While the Top 20 connectors are available, Microsoft OneDrive and Teradata are notably absent and would be useful additions.
Sisense
Sisense's BI and analytics platform is sold as a single-stack solution with strong analytical capabilities. It features a backend for preparing and modeling data and a front end for dashboarding and visualisation. It is a very popular choice that tops many user lists in terms of its capabilities, intuitive use, and impressive interactive visualisations.
Pros - Features a wide range of predesigned visualisation widgets as well as providing the option for users to submit their own open source designs or to receive recommendations on how to best view a particular data set. Also features strong natural language querying capabilities.
Cons - While Sisense has built a strong reputation among business analysts, its learning curve can prove difficult for beginners.
Looker
The Looker data analytics platform collects and extracts data from a variety of sources and collates them into a SQL database. This then easily enables users to access custom business logic via data explorations and shared insights, helping organisations to unify their SQL and Big Data management. As it is a browser based analytics solution, data accessibility and sharing is simplified across multiple team members no matter where they are located. Exports can also be done to platforms such as Google Drive or Dropbox.
Pros - Very strong SQL modelling capabilities. Allows users to easily refine models specific to their company's chosen metrics or business logic to generate KPI dashboards or department specific reports.
Cons - In June 2019, Looker was acquired by Google Cloud, meaning that in the future the platform may lose some of its specialist appeal. Expensive compared to other competitors in the space and better suited to larger teams and organisations.
The last word
Modern data analytics platforms are extremely powerful and versatile. The data visualisations and BI insights they are capable of can become vital to helping businesses track and interpret their most important business metrics. This can help drive expanded revenues and realise real competitive advantages.
To fully leverage the capabilities of these platforms, businesses need to understand their core data sources as well as the outputs most important to their business goals. But when properly utilised, the latest iterations of the best data analytics platforms can be truly transformational. To learn more about how your business can harness the power of data analytics, talk to the IT experts at FinXL.